Your building's roof is probably one of the hardest working aspects of your commercial building overall. It is exposed to all manner of weather and temperatures, which means it's that much more important to stay current with yearly maintenance. Now that we're officially into spring and heading toward summer, it's a good time to think about spring roof maintenance as a means to prepare your roof for the upcoming summer storms.
If you own a business in the Mid-Atlantic and want to ensure that your commercial roof is properly maintained, invest in preventative maintenance for your roofing system. Heidler Roofing Services can help you create an actionable, preventative maintenance program to keep your commercial building's, business's, or store's roof intact and ready for whatever mother nature throws at it.
The Benefits of Preventative Maintenance
Keeping your roof in great condition will ensure your business and its assets remain protected for years to come. But what are some of the other benefits of preventative maintenance? For starters, it helps protect your roof from damage caused by severe weather. If your roof is already littered with debris and a large rainstorm hits your building, the debris could clog drains or gutters and cause excess water to seep into your building.
Preventative maintenance also helps extend the lifespan of your commercial roofing system by addressing wear and tear over time. A full roof inspection from an experienced roofer can often spot minor problems on your roof before they turn into bigger issues and costly damage.
Additionally, businesses that invest in preventative maintenance can more efficiently manage their annual budgets since there is less need for unexpected repair costs or emergency services. The Roofing Alliance for Progress stated that roofs with regular maintenance cost 11 cents less per foot over the roof's life and last, on average, eight years longer than roofs without preventive maintenance.
Why Perform Spring Maintenance on Your Commercial Roof?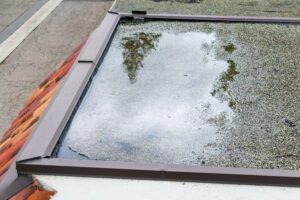 As the weather continues to get warmer, now is a perfect time to invest in the overall upkeep of your commercial roof system. Although springtime brings about beautiful temperatures and blooms, it can also bring about issues related to rain and wind.
It's important to check for signs of damage, such as open flashings and laps or punctured membranes, that may have happened over winter. Regular seasonal maintenance in the spring can also identify if you have clogged gutters or downspouts that could prevent spring rains from adequately draining and causing internal damage.
6 Spring Roof Maintenance Tips
Having a spring roofing plan in place is key to ensuring your roof continues to protect your building. Ensure you have all the spring roofing tips and information necessary to tackle any unexpected seasonal weather. Taking proactive steps such as inspecting your rooftop, repairing deficiencies, and cleaning away debris will increase the life expectancy of your commercial roof system and help prevent any potentially harmful or expensive damages down the line.
Here are six tips to help you spring forward with your seasonal roof maintenance:
Removing Debris—You'll want to make sure you clear the roof of debris. Leaving debris on your roof can cause it to degrade the roofing materials or cause punctures.
Cleaning Gutters and Drains—If any of the debris on your roof is in your gutters or drains, it's also important to clean those out. Without doing so, the gutters and drains can't drain properly, resulting in ponding water that can cause roof deterioration and trapped moisture.
Repairing Roof Leaks—Roof leaks can be caused by various issues, such as flashings or laps, membrane punctures, and more.
Checking Flashing—Checking your flashings, especially flashings around roof penetrations, is always crucial in the spring. These areas around wall details, chimneys, vent stacks, curbs, and roof top equipment often have parched caulking and separation due to age or water freezing and thawing over the winter. These issues can be a source of water leaks into your building.
Pruning Nearby Trees—Summer storms can bring a tizzy of wind, so minimize risk by pruning nearby trees. This step helps prevent damage from falling branches and leaves from clogging gutters and drains.
A Custom-Tailored Roof Maintenance Plan, Suited to Your Specific Needs
While these spring roof maintenance tips are good for each new spring season, it is not recommended to attempt roof repairs or heavy-duty cleaning alone. Rely on professional roofing contractors to help you to avoid potentially damaging your roof further, unexpected leaks, and other roof damage.
Implementing a roofing preventative maintenance program with us is key to preserving and extending the life of your current roof system. We recommend periodic inspections—they can be done quarterly, semi-annually (fall and spring are the best time for this), or annually. We'll create a preventative maintenance program tailored to your individual needs. You'll receive periodic inspections, preventative maintenance tasks, and repair recommendations.
When your inspection time arrives for your spring roof maintenance, we'll send an experienced and trained technician to evaluate the components of your roofing systems. The evaluation covers a thorough analysis of the roof membrane (surface) and all flashings, which will be detailed in a comprehensive report that also includes the following:
Recommendations for any work needed to maintain the roof system properly
Digital images of the inspected roof system
Any other relevant, recommended actions we think are necessary for the preservation of your roof
Spring Roofing Tips Put into Action
Like in our spring roof maintenance tips, we'll check out different parts of your roof. Part of the preventative roof maintenance program includes managing any aspect of the drainage or gutter system, as poor drainage can accelerate deterioration. Our inspectors will examine and clean out all drainage and gutter systems. We'll also inspect your roof for any excessive debris that has built up over the winter. Common debris that poses a threat to drains, gutters, and roofing systems includes:
Tree limbs
Garbage
Leaves
Anything beyond the original scope will incur additional fees beyond the standard preventative maintenance plan cost (due to crane rental and disposal fees). The steps our technicians take will be tailored to your specific roofing system and needs, but our goal is always to ensure your roof system is in optimal shape. If it needs work or further maintenance, we'll provide our best recommendations for the next steps.
As a reminder, this preventative maintenance program is suited for roof systems of any age. Of course, it's much easier to keep newer roof systems functioning normally with the program since the lifetime of a new system is much easier to maximize than one that's been up for 15+ years.
Don't wait for something to go wrong with your roof. Let us inspect your roof and provide the routine maintenance it needs to last longer and perform better.
Getting the Most out of Your Spring Roof Maintenance
As a savvy commercial building owner, you know how important keeping your roof in good condition is. A preventative maintenance program covers everything from periodic inspections and analysis of roof components to managing drainage and gutter systems effectively.
But you can do plenty to maximize our program's effectiveness while preserving the integrity of your commercial roofing system. Here are three simple tasks for commercial roofing systems to incorporate into your spring roof maintenance regimen.
1. ALWAYS INSPECT YOUR ROOF AFTER SEVERE WEATHER
High winds, heavy rainfall, snow, or hail can all have a negative impact on your roof over time. Inspecting your roof after this kind of weather can keep you ahead of any weather-related damage.
2. KEEP YOUR ROOF, GUTTERS, AND DRAINS CLEANED
Regularly removing leaves, branches, and other debris can prevent drainage issues from occurring. Clearing away the likes of moss and algae is also a good way to maintain the efficiency of your current roof system.
Achieve Lasting Protection for Your Commercial Roof System
We believe strongly in the power of preventative maintenance when protecting your commercial property's assets. Our extensive spring roof maintenance and year-round preventative maintenance programs keep your roof in top shape throughout its lifespan. With periodic inspections, analysis of roofing components, managing drainage and gutter systems effectively, and removing debris, you can enjoy lasting protection for your roof.
Protect your roofing investment by getting proactive. We are here to help you stay on top of your roof system maintenance with our preventative maintenance program. Call us, and we'll ensure you know everything you need to about keeping your roof system intact and functional—well ahead of damaging summer storms.
Resources: