If your current commercial roof is leaking, or you're constructing a new building and wondering about the best type of roof for you, you've come to the right place! Commercial roofs come in many forms, each built according to the building's needs and the owner's budget. Your commercial property's roof plays an integral role in the overall health of the building and the roof's longevity.
For over 60 years, Heidler Roofing has helped building owners just like you in the mid-Atlantic region install, repair, and maintain their commercial roofing materials. We understand the importance of a quality roof over your place of business that protects you from things like mold, leaks, and lost energy. We'll help you determine the best commercial roofing system for your business and budget, allowing you to enjoy years of protection.
Commercial Roofing Types
To help you understand what it takes to construct a quality commercial roof, we're going to look at the most common commercial roofing types, classifications of commercials roofs, and the roofing materials used to create them. Also, keep in mind that the surrounding environment, typical weather, and any extraneous variables, such as animals and foliage, will also impact the roof's integrity over time.
There are typically two types of roofs on commercial buildings: flat or low slope, and some historic buildings, like churches, have steep slopes. The slope of your commercial roof will help determine which commercial roofing materials are most appropriate for your roofing contractor to install.
Roofing Classifications
While there are various classifications of commercial roofs, some are more frequently used than others. If you need assistance choosing the best roofing material for your roof, contact us for further assistance. We can work with the six most common roof classifications, including:
Built-Up Roofing (BUR) Membrane
Metal Roofing
Modified Bitumen Roofing
Thermoset (EPDM) Roof Membrane
Thermoplastic (PVC & TPO) Roof Membrane
Garden "Green" Roofing System
Are you interested in a different type of roofing? No problem! Contact us today to discuss your roofing needs.
1. Built-Up Roofing Membrane
Built-up roofing, or "BUR" as it's commonly known, is essentially your standard tar-and-gravel roof, and it's built with multiple layers (piles). This commercial roofing system is a flexible roof type as the number of layers can be varied to help control costs or meet specific durability requirements you may need to address. It's a very old low-slope roof system and is one of the most tough roofing types available today.
2. Metal Roofing
Metal roofing is a very popular commercial roof type because there are so many different kinds of metal materials available for use in such a roofing system, including:
Corrugated galvanized steel
Aggregates of zinc, aluminum, and silicon-coated steel
Metal tile sheets
Copper
Aluminum
Stainless steel
Stone-coated steel
Tin
Lead
Protective surface layers are added to manage damage from prolonged exposure to sunlight and other environmental dangers. Metal roofing also has the advantage of having an attractive, finished look, but when budget and durability are of the utmost importance, it's wise to go with what works best rather than what looks best.
However, metal roofs have strong fire resistance ratings and are stronger and more durable than traditional commercial roofing options. They also help create a more sustainable design for your building.
3. Modified Bitumen Roofing
Reinforced roof fabrics are applied to act as "carriers" for bitumen, which is later cut and installed in layers similar to BUR membranes. These commercial roofs are generally fastened to commercial rooftops as two-ply systems and adhered to the roofing deck for maximum stability and protection.
Maintenance of modified bitumen roofs is simple and can typically be handled with annual inspections and cleaning. They offer enhanced tensile strength compared to most other flat roof types that experience regular foot traffic. That means if you anticipate a lot of activity on your commercial building roof, modified bitumen may be ideal.
4. Thermoset Roof Membrane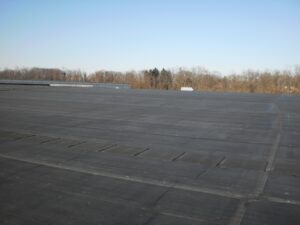 Also known as ethylene propylene diene terpolymer (EPDM) roofing, thermoset roof systems offer long-lasting durability and versatility. Plus, it's easy to maintain and repair compared to most other commercial roofing types. An EPDM roof boasts a strong resistance to ultraviolet light and ozone and is constructed from a single-ply rubber material, making it a great choice to help lower your energy costs.
Other benefits of this single-ply membrane roofing include great flexibility in colder temperatures, and resistance to some acids, solvents, and alcohol.
5. Thermoplastic Roof Membrane
Thermoplastic polyolefin (TPO) and Polyvinyl chloride (PVC) commercial roofs are lightweight, highly reflective, and provide excellent weathering. They're also resistant to UV light, punctures or tears, bacterial growth, and most chemicals—including oils and animal fats. The seam strength offered by thermoplastic roofs makes it ideal for second-generation applications, too.
The nature of these resistances makes thermoplastic roof membranes popular for restaurants and other businesses that emit oils and fats from their ventilation systems. Other benefits range from a high-temperature tolerance to fire- and wind resistance.
6. Green Roofing
Green roofs are perhaps the most versatile kind of commercial roof around today. They've not only become popular in recent years, but they present a truly sustainable option for commercial properties and businesses. The leading advantage of green roofing systems is protecting commercial buildings from the elements while simultaneously managing water, drainage and improving energy efficiency. They're beautiful to look at and a huge step toward a more sustainable, environmentally-friendly commercial property.
Schedule a Free Estimate for Your Commercial Roof Today!
If your commercial property needs a new roof or you're considering all your commercial roofing material options for a new building, contact your trusted local roofing experts at Heidler Roofing! No matter your commercial roof's type of material, we can help guide you in the right direction on the best maintenance or replacement for your business. Schedule a roof estimate today to see how we can help you!