Do you cringe every time the weather forecaster predicts rain because you know you will have to deal with leaks inside your commercial building? Not only is it annoying to place buckets to catch the water, but it also poses a safety risk if water falls on the floor and a worker slips and falls. Now you're liable for a worker's compensation suit, and that bit of water inside your building is to blame.
You deserve a worry-free roof, and we can ensure that happens with services from Heidler Roofing. We'll examine your commercial building roof design and suggest the best material for your roof. We can help with the four primary types of commercial roofing: asphalt-based systems, single-ply roofing, specialty roofing, and roof coatings.
For over 60 years, building owners like you in the Mid-Atlantic region of the United States have trusted us with all their roofing needs. Get started today by scheduling your roofing estimate and be on your way to a leak-free and worry-free roof!
1. Asphalt-Based Roofing
The first primary type of commercial roofing material is asphalt-based roofing. The materials most often used in this category include built-up roofing (BUR) and modified bitumen roofing (MB). Both offer superior protection, a water-tight seal, and incredible durability.
Regarding commercial building roof designs, BUR and MB roofing are constructed in layers, known as plies. The plies in BUR commercial roofing systems alternate with asphalt-based materials, like tar or bitumen. It is then topped with aggregates, like stone, or a roof coating. MB systems are a cousin of BUR. They are also constructed in layers of asphalt-based materials, but instead of aggregates, this material is held together with polymerized rubber or plastic. It is reinforced with fiberglass or polyester for strength.
2. Single-Ply Roofing
The second main category of roof designs for commercial buildings is single-ply roofing. Single-ply roofing consists of thermoplastic materials, such as thermoplastic polyolefin (TPO) and polyvinyl chloride (PVC). A third type, called ethylene propylene diene monomer (EPDM), is a thermoset material.
The best types of commercial roofing for your building largely depend on the business conducted inside, the commercial flat roof design, and your location's climate. You need a professional roofing contractor, like Heidler Roofing, to advise you on the best material for your specific circumstance.
TPO & PVC Roof Membranes
A TPO roof is a single-ply membrane material. It provides excellent energy efficiency and it is slow to melt things like ice and snow, which can be a hazard during winter.
A PVC roof offers durability, waterproofness, and fire resistance. It is also generally better for buildings that emit grease, such as food production operations or restaurants. This material resists oils and fats that may be exhausting on your rooftop.
EPDM Roof
The most popular thermoset material for commercial building roof designs is EPDM. This roofing option has been used for over 50 years and remains quite popular among commercial roofing systems. It's an excellent option for some buildings to restore the roof to leak-free condition.
This material is typically black, which looks absorbs heat from the sun, potentially increasing your cooling costs in the summer, but reducing your heating costs in the winter. It's also available in white, which may help with some energy efficiency.
3. Specialty Roofing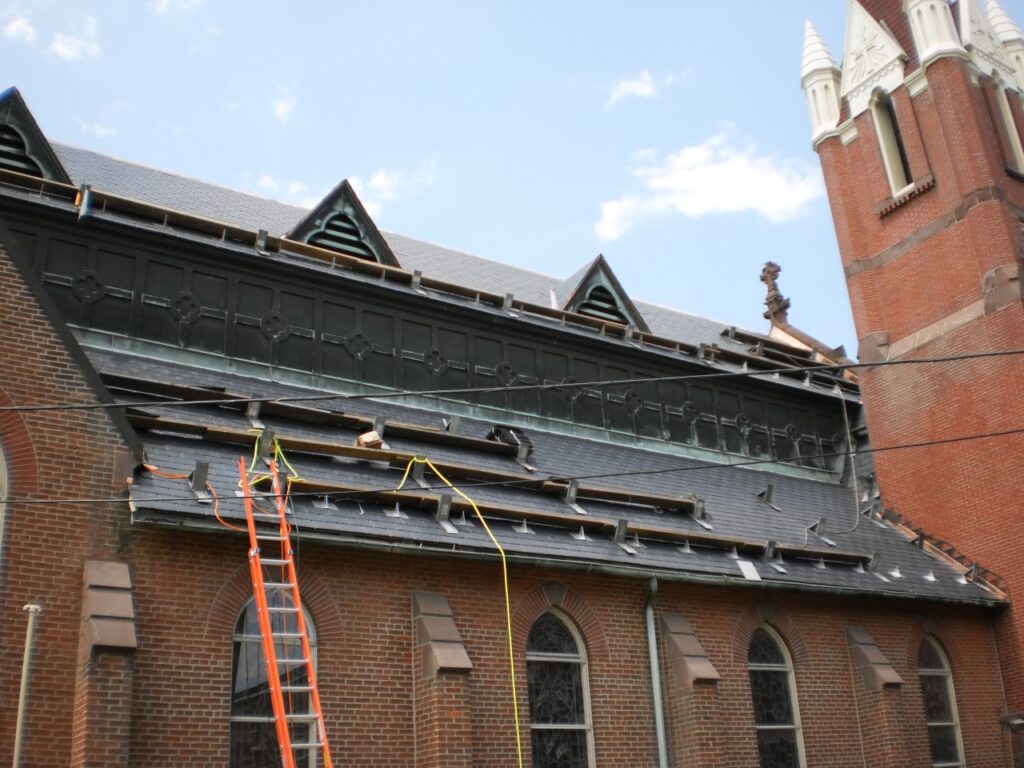 The third type of roofing we primarily work on here at Heidler Roofing is specialty roofing. This type of roofing includes everything from steep slope roofing, green roofs, roofs of historical buildings, metal, copper, cedar, and slate roofing. These roofing systems vary based on the building itself, its needs, and future uses.
You will often find steep slopes on church steeples and historical buildings at angles typically greater than 43 degrees. The roofs of historical buildings require great care from experienced contractors like us here at Heidler Roofing. We use historically faithful restoration methods, authentic materials, and skilled craftsmanship to preserve or restore the original architecture of your building.
Green roofs are found on flat roofs and consist of live vegetation. The disadvantage of commercial building roof designs based around gardens is that you would need to pay someone to regularly tend to it, including watering during dry spells and pulling weeds. It can also be more costly if leak repair is needed.
Other roofing materials, such as metal, copper, slate, and cedar, are rising in popularity. Many of these roofing types are lightweight, durable, and can help with energy efficiency. They also look beautiful on diverse kinds of buildings—from warehouses to courthouses.
4. Roof Coatings
The fourth and final type of roof design for commercial buildings includes roof coatings. If you're experiencing frequent leaks, a roof coating may be a viable alternative instead of a complete roof replacement. We have experience in several different roof coatings, including acrylic, silicone, polyurethane, and butyl. Each roof coating has its distinct advantages and disadvantages, so let Heidler help you choose which one is best for your situation.
Need Help Deciding on the Commercial Building Roof Design Best for You?
No matter what type of commercial roofing you currently have on your building, you need expert help in determining the best course of action for you. With the experienced and knowledgeable roofing contractors at Heidler Roofing, you can depend on us to recommend the best commercial building roof design.
Get in touch with us today to experience the Heidler difference and take advantage of our skilled craftsman and legendary service. We only use the best materials on the market to restore your roof to leak-free condition. End the frustration and dread of the rain and snow! Schedule your roofing estimate today!