When you're constructing a new commercial building, like a manufacturing facility, restaurant, or retail center, the type of roof you choose to install will affect your company's future for years to come. You'll want to be sure that the roofing material is suitable for your building and the business you conduct. Believe it or not, a restaurant may need a different type of roof than a jeweler! You also want a roofer who has the experience to perform commercial roof installation for that roof system.
With over 60 years in the roofing business, Heidler Roofing can provide the expertise you need to learn about roofing solutions for your building. In this third installment of our Ultimate Guide to Commercial Roofing post series, we'll cover what installing some of the most common commercial roofing systems entails.
From the decision-making process of choosing the most appropriate materials, making our professional recommendations to our customers, and designing the appropriate roof—we take the necessary time and craftsmanship to make sure the job is done right with a solid and long-lasting roof as a result.
WHAT IS INVOLVED IN INSTALLING THE MOST POPULAR FLAT & LOW-SLOPE ROOFING SYSTEMS?
When you need commercial roof installation to replace an existing roof that has reached the end of its life, the process for installing the four most popular roofing systems is similar.
1. BUILT-UP ROOFING (BUR)
As discussed in our previous chapter of the commercial roofing guide, built-up roofing is an asphalt-based system that's been in use for well over 100 years. It utilizes layers of different materials to achieve durability and waterproofness. It's considered to be one of the most cost-effective roofing systems.
BUR is a continuous and semi-flexible membrane consisting of felt or fabric layers (called plies) alternated with asphalt bonding materials. It is generally topped with surfacing material to reflect the sun's heat and protect from damage, including foot traffic.
A commercial roof installation using BUR essentially requires four main steps:
Roofers often attach base sheets to the roof's subsystem/roof deck using base-sheet fasteners.
An asphalt bonding agent is spread across the roof's surface via a hot, cold, or self-adhering application process, covering the base sheets.
Plies are laid with alternating layers of asphalt. (A little bit like a lasagna, but not nearly as delicious!)
A top layer of surfacing material like gravel/small stones (aka aggregate) is evenly spread across the roof's surface to complete the installation.
2. MODIFIED BITUMEN (MB OR "MOD BIT")
Commercial roof installation of a mod bit roof is quite like a traditional BUR system in terms of steps, as these layered systems are closely related. MB is basically a more versatile version of BUR that incorporates petroleum-based bitumen between plies that gives a "rubberized" appearance and properties.
Some MB systems rely on self-adhesive "cold process" sheets that don't require heating of the bonding materials. Additionally, MB does not require a top layer of surface material to be installed for the roof to be well-performing and durable enough for regular foot traffic.
3. SINGLE-PLY MEMBRANES – TPO, PVC, AND EPDM/THERMOSET MATERIALS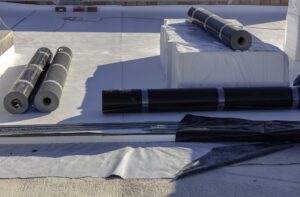 Whether thermoset or thermoplastic materials, single-ply membrane systems are either mechanically attached to the roofing substrate or adhered.
4. METAL ROOFING
In commercial roof installations, metal roofing represents one of the more expensive options because it involves high skill and often intense labor to install. Still, its longevity—sometimes up to 40 years—can't be beaten.
Depending upon its configuration (vertical and horizontal sheets and panels are most common in commercial projects), the type of metal used—aluminum, steel, or even zinc or copper—and other factors, metal roofing might be installed with fasteners. A standing seam metal roof uses concealed fasteners attached to the roof deck with clamps, which is time-consuming. Metal roofing is generally not insulative, so applying separate insulation before installation is a significant consideration that adds time and cost to a project.
The installation may be especially complicated If the commercial metal roof in question is also a specialty roof, which might involve detailed craftsmanship and unique skills like planishing.
COMMERCIAL ROOF INSTALLATION TIMELINE AND COST CONSIDERATIONS
Because every commercial building is unique and every commercial roof is different, making general statements about how long it will take to install your particular roof, and perhaps more importantly, how much the project will cost, is difficult.
The best commercial roofing contractors will offer professionally written in-depth proposals that capture all the installation details we discuss with you. With these types of project documents, you won't just get a number. You'll gain an understanding of the entire job from start to finish.
Some systems are considered premium or "high tech" than others that have been around for decades and will affect cost. Not every roofing material will be appropriate for every application, of course, but you may have some options at different price points to consider. In any event, professional roofing contractors like us here at Heidler Roofing are well-acquainted with accommodating customers' budget constraints, and we're happy to work with you.
GETTING READY TO BUILD A NEW COMMERCIAL BUILDING? PLANNING FOR ROOF REPLACEMENT?
Heidler Roofing is your strongest choice in the Mid-Atlantic region for commercial roof installation. Our professional roofers will ensure you get the best type of roof for your low-slope or flat roof commercial building or your specialty residential roofs. Either way, you can count on us to deliver the best roofing results possible.