Busy business owners in the Mid-Atlantic region of the United States know one thing for sure—they don't want to worry about their roof doing its job properly. Keeping out the elements and providing energy efficiency are the most important aspects of a quality industrial roof. So, when you experience a leak or notice mold growth in a particular part of your facility, you instantly panic because you don't know enough about your commercial roof to understand how to fix it.
That's where Heidler Roofing comes in. When you sign up for roofing services with us, we'll offer you the best advice on various industrial roofing types of materials—for a complete roof replacement, a roof repair, or a coating for your roof.
We have been experts in numerous types of commercial roofing for over 60 years. We have the knowledge, experience, and work ethic to get your roof performing at its best for years to come. Get started today by scheduling your roofing estimate!
The Slant of the Roof
The first thing you should be aware of is that the roof on your industrial building is different than the roof on your home. Residential roofs tend to have a more dramatic slant in the slope of the roof, whereas commercial buildings have nearly flat or slightly pitched slopes. You'll often hear them called low-slope or flat roofs, although no roof is completely flat because it needs a slight slope to drain water.
Because flat or low-slope roofs don't have the advantage of gravity to cause the water to flow off the roof, the various types of roofing options used on industrial buildings must be kept watertight. One way to ensure you have the best commercial roofing materials is to get a roof inspection by a qualified roofing contractor, like Heidler Roofing.
Get in touch with our team today to learn how our roof inspections can help you! We'll take the time to go up on your roof and find any areas of concern about which you should know. Then, we'll comprise a detailed report complete with pictures and price estimates to make your roof the best it can be.
Types of Industrial Roofing Materials
There are various industrial roofing types available for your building. Which one is best depends on the type of business you do, the typical weather conditions you face, and other factors. The most common types of commercial roofing systems we manage are:
Built-Up Roofing
Modified Bitumen Roofs
Thermoset Roof Membranes (EPDM)
Thermoplastic Roof Membranes (TPO & PVC)
Green Roofs
Metal Roofs
Built-up Roofing (BUR)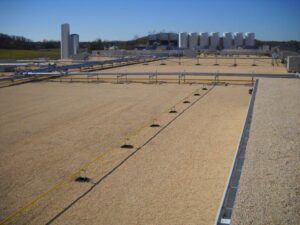 Built-up roofing, or BUR, is one of the oldest industrial building roof types. We alternate a continuous and semi-flexible membrane, made of felt or fabric layers called plies, with layers of other asphalt-based materials like tar/bitumen and aggregates like stone or gravel. That's why they're sometimes referred to as tar and gravel roofs.
BUR roofing systems have good fire resistance, are incredibly durable, and are waterproof. Because it's a continuous, solid surface, it does not require joints or seams, lessening the likelihood of leaks. It's also a low-maintenance roof, but preventative maintenance by a qualified roofing contractor should still be a priority.
Modified Bitumen (MB)
Sometimes called MB or mod bit, modified bitumen roofing is a type of industrial roofing material constructed in layers. We use a petroleum-based substance between the plies, giving it a rubberized appearance and properties.
This type of roof is durable and can handle foot traffic well, especially when compared to some single-ply membranes. It also reflects the rays from the sun, providing energy savings for the buildings it protects.
Thermoplastic POlyolefin Roofing (TPO)
As a single-ply membrane system, thermoplastic polyolefin (TPO) roofing is one of the largest segments of roofing materials in the commercial roofing industry.
Manufacturers make TPO in sheets that can be adhered or mechanically fastened. TPO is durable in diverse types of weather and can save on energy costs for your building.
Polyvinyl Chloride (PVC)
Polyvinyl chloride or PVC roofing is a popular roofing single-ply membrane that is also thermoplastic in nature. PVC is popular for many roofing types due to its resistance to chemicals, grease, and fire.
It's also made in sheets, which can be adhered or mechanically fastened. We take exceptional care around rooftop penetrations to get a waterproof seal.
Ethylene PropYlene Diene Monomer (EPDM)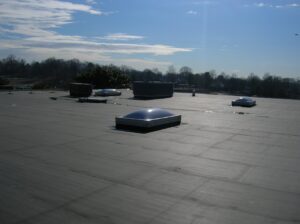 An EPDM roof is made from a synthetic, rubber-like material that is thermoset in nature. Unlike PVC and TPO roofs which are thermoplastics, EPDM does not change shape under the influence of heating or cooling. It comes in rolls, and we apply those to your roof and adhere them with roofing adhesives or mechanically attach.
EPDM has a thorough list of advantages, including flexibility, elongation, UV resistance, and resistance to damage from hail. You'll often see a black EPDM roof, which helps save on heating costs, but some manufacturers also have a light-colored material to help industrial building owners save on cooling costs.
Metal Roofing
Few commercial roofing contractors in the Mid-Atlantic region of the United States can specialize in both industrial roofing types of materials and specialty roofing materials, like metal. But Heidler can! Metal is environmentally friendly because it's made from recycled metals like steel and aluminum, and you can recycle it at the end of its roofing life.
Metal roofing generally lasts for a long time and is often aesthetically pleasing. Unlike single-ply roofing, metal roofing doesn't become less reflective or lose energy savings over time. However, leaks can develop more quickly around fasteners than in other industrial roofing types.
Green Roofs
Sometimes called garden roofs, a green roof incorporates living vegetation. Placing planters full of foliage can improve air quality, which is especially important if your industrial building is in the city.
The downside to green roofs is that they are usually expensive to build and require building owners to have a person regularly tend to the vegetation with daily watering, weeding, and other chores as are necessary for growing vegetables, fruits, and flowers.
Flat Roof Coatings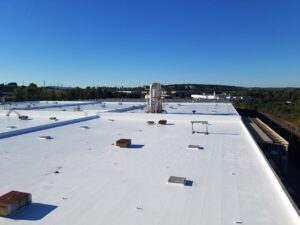 Now that you know about the various types of roofs used on industrial buildings, we want to touch briefly on flat roof coatings. Roof coating products, sometimes called fluid-applied roofing, can be a cost-effective way to revitalize your roof, restore it to leak-free condition, and add energy savings. Three of the typical flat roof coating materials we use are:
Acrylic—An incredibly durable, cost-effective coating, acrylic is ideal for structurally sound rooftops with occasional minor leaks.
Silicone—Many industries use silicone as a material to seal gaps between other materials. As a roof coating, it's highly reflective and can provide energy savings.
Butyl—A solvent-based coating, it provides excellent expansion and contraction properties and high tensile strength. It's ideal for commercial cold-storage facilities with flat roofs.
Get Expert Advice on Industrial Roofing Types from Heidler Roofing
Today's overview of the industrial building roof types should give you a good idea of what kind of roof exists on your building and maybe clue you in on whether it's time for new material. As industrial buildings change hands and purposes, they may need to have the roofing material evaluated to see if it's the best option.
But don't do it alone. You need a professional industrial roofing contractor on your side to offer you the best advice for your roof. That's why you should call Heidler Roofing. We'll evaluate your current roof and have a conversation with you about your roofing needs.
Then we'll provide a thorough roof inspection report so you can see exactly what we see with cost estimates to fix any problems we encounter. This way, no matter what industrial roofing type you have, you'll be confident it's doing its job. Get started today with your own roofing estimate!