When your commercial roof experiences leaks, ponding water, or low energy efficiency, it can be troubling for business owners. Water leaking inside the building can create safety hazards for workers, and ponding water on the roof can lead to bugs or mold infestation. Plus, wasted energy means wasted dollars. You and your business deserve better.
These reasons are just some of why building owners in the mid-Atlantic region of the United States call a commercial roofing contractor to install a membrane roof. While there are many roof membrane types, the five varieties we primarily work with (and recommend) at Heidler Roofing include BUR, EPDM, TPO, PVC, and MB roofs.
If that sounds like a bowl of alphabet soup to you, let's break down the definitions and benefits of these types of membranes. Then, contact Heidler Roofing, your trusted commercial roofing contractor, to schedule a roofing estimate to find out which type will work best for you.
What Is a Membrane Roof?
A membrane roof is a flexible or semi-flexible roof covering material that primarily waterproofs a roof system. It can be made of a single material or several laminated materials together. While membrane materials can sometimes be used on residential roofing, they are primarily used for commercial or industrial buildings with flat- or low-slope roofs.
Flat roofs aren't truly flat. They have a slight pitch to encourage water drainage, but it's extra important that these types of roofs remain watertight. Rainwater or melting snow doesn't immediately flow off the top, like on roofs with steeper pitches. Choosing a suitable roof membrane types is critical for commercial building owners with flat- or low-slope roofs.
What Are the Different Types of Roofing Membranes?
While there are many types of membranes for roofs, like Styrene-Butadiene-Styrene (SBS), Atactic Polypropylene (APP), and Ketone Ethylene Ester (KEE), the five we recommend here at Heidler Roofing are:
Built-Up Roofing (BUR)
Ethylene Propylene Diene Monomer (EPDM)
Polyvinyl Chloride (PVC)
Thermoplastic Polyolefin (TPO)
Modified Bitumen
Which Kind of Flat Roof Membrane Is Better?
Each roof membrane type has its advantages, and which one is better depends on your building's kind of roof, usage, and needs.
BUR Roof Membrane
A BUR-membrane roof is one of the oldest commercial roofing types and is still used today. Felt or fabric layers (called plies) are "built-up" on top of the roof, overlapping, and infused with bitumen. The plies are alternated with other asphalt-based materials like tar/bitumen and topped with aggregate. Some of the benefits of BUR roofs include:
Proven track record
Lasts up to 25 years or longer with proper maintenance
Good fire resistance
Incredibly durable
Waterproof
Some of the newer BUR roofs are sometimes called modified bitumen membranes and include additional materials to make them stronger.
EPDM Roofing Material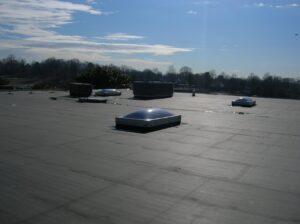 Sometimes called a rubber roof membrane because it looks like a stretched-out innertube on a roof, an EPDM roof is a second common type of membrane. As a type of single-ply membrane roofing, EPDM can be applied to fully-adhered, ballasted, and loose-laid protected roofing systems.
The EPDM membrane is coated in an adhesive and then rolled into place and broomed down for fully-adhered systems. The EPDM membrane is loose-laid on the roof for ballasted and loose-laid systems.
Some advantages to EPDM roofs include:
Wear-, fatigue- and impact-resistant
Extremely durable
Lasts up to 30 years or longer with proper maintenance
Waterproof
PVC Roofing Membrane
PVC is a roof membrane type known as a thermoplastic material. This classification means it becomes soft when heated and more rigid when cooled. Depending on the type of roofing system your commercial building has, the membrane is commonly placed down in overlapping sheets. The seams are hot-air welded to ensure a watertight seal.
PVC roofing is ideal for food-production facilities and restaurants, as they are highly resistant to chemicals, fire, and grease. Other benefits include:
Recyclable
Energy efficient
Heat and UV-resistant
Lasts up to 25 years or longer with proper maintenance
TPO Roofing Material
TPO is very similar to PVC, and the two are often grouped together because they are both thermoplastic materials. The membrane is adhered to the roof using a bonding adhesive for fully-adhered systems or with plates and fasteners for a mechanically-fastened roof system.
These relatively new roofing membranes are an excellent choice for commercial buildings and provide these benefits:
Durable against various temperatures and weather
Energy efficient
Available in a variety of colors
Lasts up to 30 years or longer with proper maintenance
Modified Bitumen Roofing (Mod Bit or MB)
Like BUR, modified bitumen roofing (MB or Mod Bit) is a commercial flat roofing material constructed in layers. MB roofs have a petroleum-based substance between the plies, providing a rubberized appearance and properties. It's sometimes even called "rubber roofing."
Some of the benefits of an MB roof include:
Ability to withstand regular foot traffic
Easy to install without the use of heat
Incredibly durable
Reflective material, so it can provide energy savings for the building
How Do I Determine Which Roof Membrane Type Is Best for My Building?
When determining what roof membrane types are best for your business, there are many factors to consider. The roof's pitch, the business being conducted inside, the existing roof material, the kind of roofing system, and the roof's condition are just a few considerations needed.
It's best to contact a professional roofing contractor near you, like Heidler Roofing, to evaluate these issues and other concerns to determine the best membrane roof for you. After more than 60 years in the commercial roofing business, we know the conditions and considerations to check to help you choose the best material for your building. Get started today with a roofing estimate from our friendly, professional team.