While EPDM is a durable roofing material with excellent weatherability and lifecycle costs—like other roofing materials—it must be properly maintained. For commercial building owners who have an EPDM roofing system, you need to make regular inspections to ensure there aren't any issues that could cause water to leak into your building.
Luckily, Heidler Roofing is a skilled roofing contractor who can help with commercial EPDM roof repair. Since 1959, business owners like you have trusted our roofing technicians with all their roofing installation, repair, and replacement needs.
We can examine your existing EPDM roof, make suggestions for repairs, and recommend any necessary coatings. In addition, you can keep up with routine maintenance of your roof by signing up for our roofing maintenance and repair plan. Get started today by scheduling a roofing estimate.
What Is the Lifespan of an EPDM Roof?
The lifespan of an EPDM roof varies based on your location, but some have lasted for more than 40 years. In fact, EPDM roofing membranes are known as "tried and true" technology because some of the original EPDM roofs are still in service today.
Because of its longevity, it is a great roofing system for some commercial buildings. It strongly resists ultraviolet light and is constructed from a single-ply rubber material. It can even resist some acids, solvents, and alcohol. However, it may develop some age-related issues.
What Problems Can EPDM Roofing Systems Develop?
Clients call us for commercial EPDM roof repair because of four primary issues. These problems can lead to water leaks, bug infestation, and other issues that most building owners don't want to have. That's why it's so important to have a commercial roofing contractor, like Heidler Roofing, performing regular inspections of your existing EPDM roof system to check for these issues before they lead to more significant problems.
1. Shrinkage
Because of the nature of the material, the EPDM membrane can shrink as it ages. This shrinkage weakens the synthetic rubber and makes it more susceptible to punctures and leaks. Flat roofs often need EPDM repair because when the material shrinks, it pulls away from seams, walls, and drains, leaving crevices where water, bugs, and mold can enter your building.
2. Appearance
Another reason people call us for commercial EPDM roof repair is because of their roof's appearance. EPDM roofs are often black and look like a stretched-out inner tube on top of your building. For those building owners concerned with their roof's look, this unsightly appearance can cause alarm. In addition, since black is non-reflective, it often doesn't provide the energy savings that some other roofing materials offer.
3. Improper Installations
Improper EPDM roofing installations will shorten the lifespan of a roof. Make sure your roof is installed by a qualified roofer. Heidler Roofing is certified by most major manufacturers to properly install roof types, such as EPDM.
Suppose you don't know the original roofing installer for your building. In that case, it's best to contact the professionals at Heidler Roofing for an inspection and rubber membrane roof repair to ensure your roof will protect your building as it should. We can fully adhere any EPDM patches or coatings to your roof for complete protection.
4. Easy to Damage
EPDM is a strong roofing material that can withstand moderately strong storms. However, it's not entirely impact-resistant. Additionally, if you walk on the roof with the wrong shoes, a large branch falls on the roof, or Additionally, excessive foot traffic, debris falls on the roof, or if you get a terrible storm with large hail, the roof may be susceptible to punctures, ponding water, or other roofing issues that need commercial EPDM roof repair.
Can an EPDM Roof Be Repaired?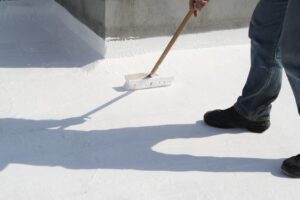 Yes, most EPDM roofs can be repaired and restored to like-new, leak-free condition. For rubber roof repair, we recommend an appropriate roof coating that provides the protection your EPDM roof needs to decrease the likelihood of some of the drawbacks of this roofing system.
It's a long-lasting coating system that can enhance the energy efficiency of your EPDM roof because it's reflective. In addition, it is more visually appealing than a black EPDM roof, and it's a cost-effective way to restore your roof to leak-free condition.
You might consider other roof finishes, including polyurethane, butyl, and silicone coatings. Not sure which one is best for you? Contact our expert team for a free roof inspection and recommend the best commercial EPDM roof repair for your building!
Stay on Top of Commercial EPDM Roof Repairs with a Roof Maintenance Plan
We get it. Inspecting your roof isn't high on your to-do list. It isn't until you notice water leaks or mold growth that you begin panicking and wondering why you waited so long to look at the top of your building. Eliminate the need to remember to have your roof checked by signing up for a maintenance and repair plan from Heidler Roofing!
A commercial EPDM roof repair and maintenance plan can extend the life of your EPDM roofing system by ensuring that it's performing as it should. These inspections can uncover the top four issues with EPDM roofs and more, and our professional roofing crew can repair them before they cause problems inside your building. In addition, these repairs may be covered by roofing material and installation warranties, so you can make a claim and save money on your commercial EPDM roof repair.
Why wait until it's too late, and you may need more costly repairs or even a total roof replacement? Our roofing technicians can document all your roofing maintenance and repair projects in a custom app, complete with photographs, thorough documentation, and comprehensive reporting—all available at your fingertips through our customer portal.
Get Started on Improving the Durability of Your EPDM Roof Today!
EPDM roofs are an excellent roofing material to protect your building but come with their share of drawbacks. You can mitigate some of these disadvantages by coating your roof with a long-lasting and durable white acrylic coating. In addition, identify shrinkage, appearance issues, improper installation problems, and other issues before they cause further damage by signing up for our roof maintenance plan.
For commercial EPDM roof repair, trust the experts at Heidler Roofing! For over 60 years, our team has helped commercial building owners get high-quality roof installation, restoration, and repair. We know how to improve the durability of your EPDM roof with regular inspections and custom rubber roof repair. Get started today with a free roofing estimate and inspection!
---