Drip. Drop. Splat. Fear and panic can set in when you hear those telltale signs that your roof leaks. You may be worried that water is going to damage your equipment or inventory, create a safety hazard within your commercial building, or that the cost to repair your flat roof is going to be astronomical.
After over 60 years in the roofing industry, we at Heidler Roofing have heard every concern building owners have when their roof begins to show signs of needing repair. We want to eliminate your concerns and feel confident that your flat roofing repairs will be of the highest quality. After all, you and your business deserve the best roofing solutions at a fair price.
Get in touch with us today to schedule a roofing estimate. Our flat roof specialists will arrive on time, thoroughly inspect the inside and outside of your roof to locate the source of the leak, and provide the repair solution you need. You won't find better roofing contractors than us at Heidler Roofing!
What Are Common Flat Roofing Problems?
No matter what type of roofing system your commercial building has, it can still face unique challenges that can quickly turn into problems or leaks in your building. You'll know it's time to call a professional for flat roofing repairs when you notice any of the following issues:
Roof leaks
Low spots or ponding water
Material warping
Seam gaps
Accumulated debris
Water damage inside your building
Whether you need emergency flat roofing repairs or planned ones, Heidler Roofing is there for you to be quick to respond and fix any issues on your roof. We have a repair solution that works whether you have an EPDM rubber roofing, built-up roofing, TPO or PVC single-ply roofing, or another material. Get in touch with us today to schedule your roofing estimate.
What Is the Best Product to Repair a Flat Roof?
When you work with a professional, certified roofing contractor like Heidler Roofing for flat roof leak repair, they'll use roof repair materials from some of the major manufacturers in the roofing business. But which is best for your flat roof?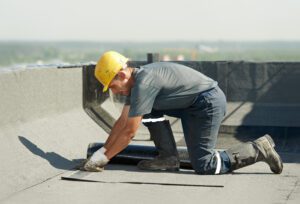 The best product to repair a roof depends on the roofing system and the type of repair needed. Sometimes, flat roofing repairs are an easy fix. Call Heidler Roofing to set up a roof inspection.
Other times, repairing the roof from leaks, seam gaps, or material warping requires more advanced and complete repair techniques. One option may be a flat roof coating to restore your roof to leak-free condition. Luckily Heidler Roofing is well versed in several types of roof coatings, including:
Acrylic—These incredibly durable coatings require a primer, fabric reinforcement, and two coats of the material.
Silicone—Silicone is a roof coating material that provides energy savings and convenience.
Polyurethane—Known for standing up against ponding water, a polyurethane roof coating can also add insulation value to your roof.
Butyl—Butyl coatings offer excellent reflectivity against UV rays and perform as a vapor barrier.
How Can I Stay on Top of My Roofing Repairs?
Preventative maintenance is the best way to stay on top of roofing repairs before problems become significant. Seasonal maintenance is best for your roof; however, a once-a-year roof inspection is recommended, at the very least. By staying on top of your roofing repairs with a roof maintenance plan from Heidler Roofing, you'll likely save money. Fixing smaller issues as they happen is more cost-effective than waiting for a more extensive roof catastrophe.
In addition, regular roofing maintenance can extend the expected lifespan of your roof. Whether it's 30-, 20-, or 15-years, proactive roof maintenance can help exceed your roof's anticipated lifespan. Plus, you'll save money. The Roofing Alliance for Progress states that roofs that receive regular care cost $0.11 per foot less over the roof's lifecycle and last for eight years longer.
How Do I Know If My Roof Needs a Replacement or Repair?
With regular maintenance using Heidler's roof maintenance and repair plan, you'll be able to stay on top of your roofing repairs. However, at some point, it might be more cost-effective to do a flat roof replacement than to keep repairing these minor issues after every little storm.
Suppose you've been experiencing regular leaks that are getting worse and ruining areas of your building interior or suffered significant damage from a strong storm. In that case, a commercial roof replacement might be the best option for you. It's best to contact Heidler, a professional roofing contractor, to evaluate your flat roofing repair frequency and see if a replacement is necessary.
Do I Need to Call a Professional Roofing Contractor, or Can I Repair My Roof?
As a professional roofing contractor, we will, of course, advise you to call a flat roof specialist to take care of your flat roofing repairs. Even if you are handy or have a maintenance man on your staff that can likely handle the repair process, there are several reasons why calling a professional roofer is in your best interest.
First, you might be spending money that you don't need to pay. When your roof is initially installed, repaired, or replaced, it frequently comes with manufacturer's and contractor's warranties that protect you from certain roof damages. However, a condition of these warranties is often that certified roofers only make repairs. So not only may you void the warranty for future more comprehensive repairs, but you also could be spending money you may have covered under your warranty.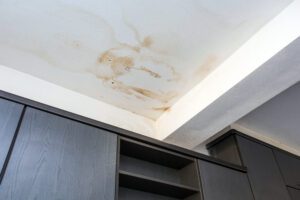 Second, it can be challenging to determine where the source of the leak is on a flat roof. You must account for run-off, seams in the sheathing or roof deck, skylights, electrical protrusions, and other roof obstacles. It's best to let the professionals locate the leak for you so that you're not unnecessarily repairing something on your roof.
A third reason you should contact a professional roofing contractor for flat roofing repair is if you have a PVC or TPO roof. These roofs require specialized equipment like a heat air gun and suitable membrane material to properly repair this type of roof.
For Expert Flat Roofing Repairs, Talk to Heidler Roofing
When it comes to flat roofing repairs, there's no better choice than Heidler Roofing. Our friendly staff pays great attention to detail, so no source of leaks or other roof damage will go unnoticed. We document everything in a customized application and give you a summary of all our findings, so you know precisely what to expect.
Trust us for flat roof leak repair on your commercial building. Don't risk voiding your warranty or making the problems worse by doing it yourself. Get started today with a roof inspection and comprehensive report.