As we've often talked about in our commercial roofing-focused blog posts, it's possible for your commercial building to have a roofing system that isn't ideal for its use.
In buildings with flat-roof structures (as opposed to low-slope or steep-slope systems), builders can sometimes install an unsuitable roof. Inexperienced roofing contractors and novice building owners install commercial flat roofing systems that aren't ideal because they aren't aware of all the decision factors to choose the best roofing materials from the long list of possible options.
Perhaps more often, the type of business being conducted in a particular building changed throughout the history of the building. And while the original commercial roof may have been a perfect fit for the building's earlier purpose, it could now be inappropriate—or maybe just too old and causing leaks inside the building.
No matter what, it's essential to understand the fundamental properties of how your building's flat roofing system is constructed so you can make more informed choices about preventative maintenance, repairs, and possible future replacement. Today's post gives you a little insight into the popular flat roofing materials that might be up on your roof now, as well as how to determine whether you have the best roof for your business.
What Type of Flat Roof is the Best?
In short, this question can be tricky—maybe even impossible—to answer in broad terms. While there are plenty of commercial buildings of nearly identical construction located in areas with similar climate conditions, the business you conduct inside the building itself will often dictate which roofing system is best. And, of course, additional factors such as an owner's budget will influence the ultimate determination, too.
Heidler Addresses Unique Business Needs
For example, consider our successful re-roofing project at Dawn Foods' production facility in York, PA. While the old ballasted EPDM roof that we replaced wasn't totally unsuitable for the food manufacturing taking place underneath it, it was beginning to leak water into the building. We worked closely with the customer to choose a different roofing membrane material that better addressed their unique business demands, such as the need to withstand high foot traffic for daily exhaust system checks.
While this project is just one example of where the prior commercial roofing system needed upgrading, there are plenty of situations in which we might recommend installing a different type of roofing materials for commercial flat roofs. We frequently use other materials for roofing installation and repairs, including built-up roofing, thermoplastic or thermoset single-ply roofing, modified bitumen roofing, or green roofs.
Built-Up Roofing (BUR)
One of the oldest commercial roofing types that still have merit in some of today's new installation scenarios is built-up roofing. BUR systems feature a continuous and semi-flexible membrane made of felt or fabric layers (called plies). Roofers alternate plies with layers of other asphalt-based materials like hot tar/bitumen and aggregate, which is the reason we sometimes refer to BUR as "tar and gravel" roofs.
BUR systems are relatively easy to repair and are extremely durable. They typically don't require much upkeep, but we still recommend twice-yearly inspections to ensure it's leak-free and protecting your building as it should. BUR roofing systems are a solid roofing choice for many flat roofs.
Thermoplastic Single-Ply Membrane Roofing (PVC & TPO)
As we talked about in-depth in our recent blog post about single-ply membrane roofing, PVC (polyvinyl chloride) and TPO (thermoplastic polyolefin) roofs offer the significant benefit of reflectivity. These roofs are often white and offer high chemical resistance.
If you run a food-production facility or a restaurant, PVC may be your ideal roofing system because it actively resists substances like oils and fats that may be exhausting onto your rooftop.
Like all single-ply membrane roofing, roofers install TPO and PVC roofing by unfurling the rolls it comes in and then adhering or mechanically attaching the material to the roof deck. Unlike EPDM roofing, which we will touch on next, TPO and PVC use heat to weld seams and make the roof waterproof. This two-step installation process may sound simple, but it is labor-intensive and requires professional experience by commercial flat roofing contractors to get it right.
Thermoset Single-Ply Membrane Roofing (EPDM)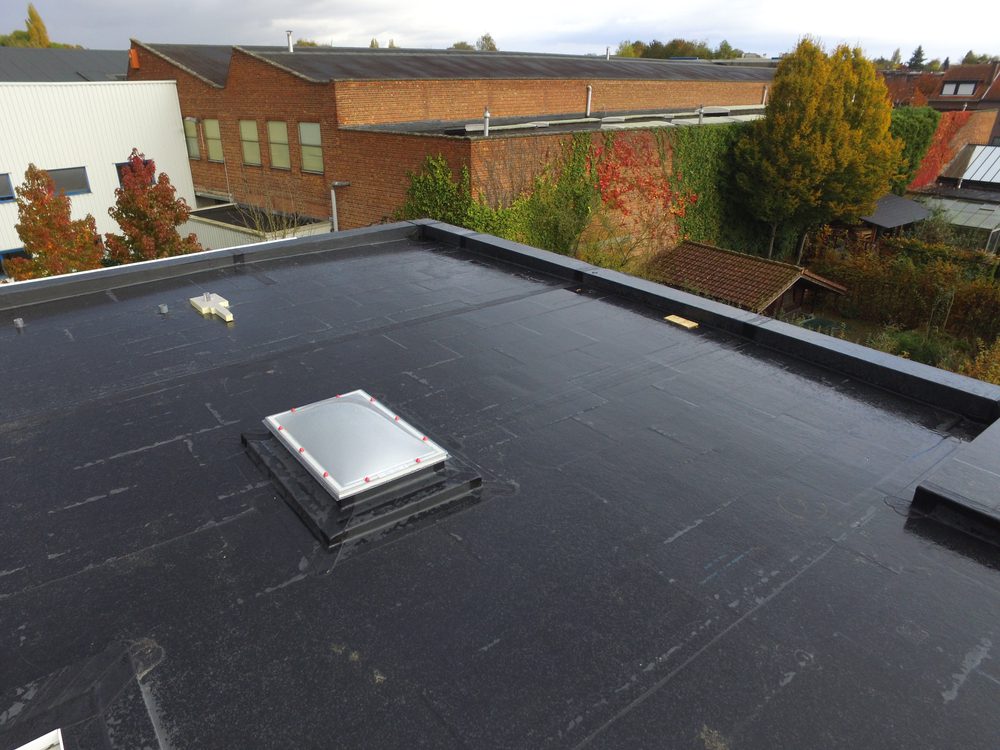 If you're looking for a commercial flat roofing material with both excellent fatigue- and scratch- resistance, EPDM thermoset roofing could be your commercial building's perfect match. EPDM stands for ethylene propylene diene monomer, which is a rubber-like material. You may hear roofers calling these systems "rubber roofs."
EPDM has an advantage in the industry with its "tried and true" technology—professionals have used it for over 50 years. The best part? Some of those original EPDM roofs are still in service today, and they can stand firm against much of what Mother Nature hurls its way.
The EPDM roof membrane material is highly durable. It provides long-term protection for commercial flat roofing systems, especially in our Heidler Roofing home service area of the Mid-Atlantic region of the United States.
Since EPDM is typically black, the material is typically not reflective, but light-colored ballast can influence its energy efficiency. Many building owners with an EPDM roof add the light-colored coating to increase the building's energy efficiency when getting their roof repaired.
Modified Bitumen Roofing (Mod Bit or MB)
Another system that may sometimes be called "rubber roofing" is modified bitumen (MB). Much like BUR, MB is a commercial flat roofing material constructed in layers, with a petroleum-based substance between the plies that provides a rubberized appearance and properties.
One of the significant benefits of MB roofing is its ability to handle regular foot traffic versus some single-ply membranes, mainly because it's much thicker. It is also relatively easy to install by commercial flat roofing contractors compared to BUR or even TPO, as it typically does not require the use of heat.
Instead, much MB roofing is comprised of self-adhering "cold process" sheet material. It's incredibly durable and reflective, so it can provide energy savings for the buildings it protects.
Garden or Green Roofing Systems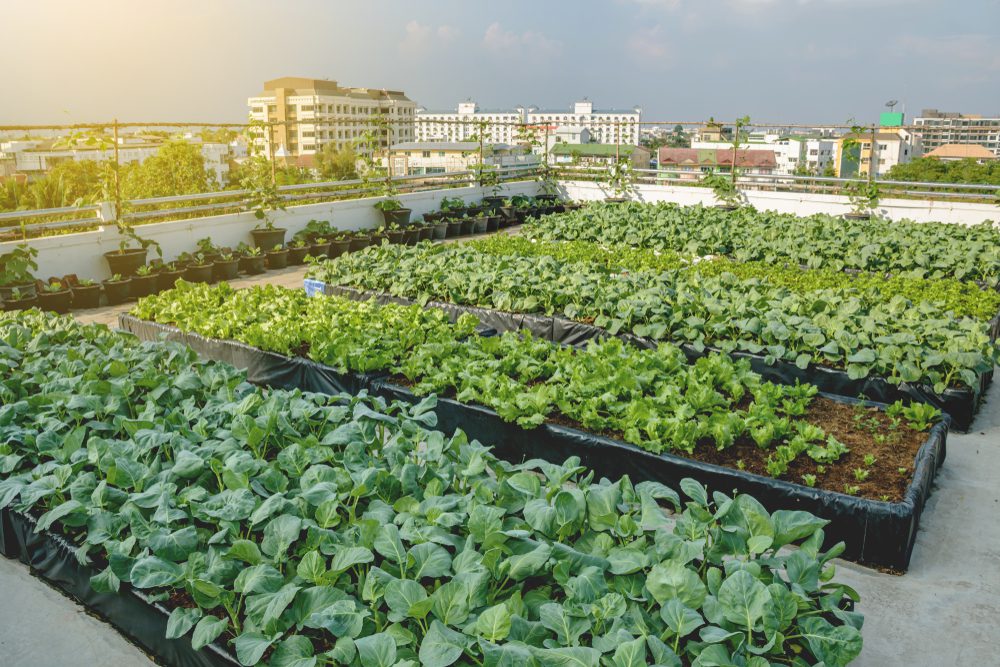 While not installed very often due to the complexity and high expense factor—both initially and over the literal life of the roof—garden roofing systems offer excellent "green" benefits. Urban settings, where locations to grow fresh vegetables and herbs are harder to find, particularly benefit from this type of roof.
These beautiful and eco-friendly rooftop gardens consist of a multi-layered roofing system that protects the building beneath it and supports living vegetation above. And, while you surely won't see these being installed on many manufacturing or warehousing facilities, they are becoming more popular on buildings that house hospitality-based enterprises like restaurants and entertainment venues.
Heidler Can Help You Install Your Ideal Commercial Flat Roofing System
So, how do you find the best possible flat roofing material that ticks all the boxes on your list of "must-haves"? The surest answer is to work with an experienced commercial flat roofing contractor who takes the time to listen to your needs and collaborate with you.
Here at Heidler Roofing, we are the commercial roofing contractor for business customers of all sizes throughout the Mid-Atlantic region. We take the time to learn about your concerns, what your business does or makes, your building's construction, and—maybe most importantly—your budget to offer recommendations for roofing materials we're proud to install. We also provide comprehensive preventative maintenance plans for all types of commercial roofing systems, whether we originally installed the roof or not.
Get in touch with us today to schedule your free initial roof inspection, and discover how our skilled craftsmen and legendary service make all the difference for your roof and your business.