Have you ever admired a uniquely designed building and marveled at its interesting rooflines or unusual roofing materials? Often found on historically important public structures (think city halls or large, old churches), rooftop features like graceful parapets, finials, and other sculptural elements add visual interest that makes a building stand out from its surroundings. Because these roof features, along with distinctive materials like slate and copper, are much more costly to source and install, they're not used in average homes or commercial buildings. However, like most conventional roofs, these specialty roofs also need ongoing care and repair (and the occasional total replacement).
Not just any roofing contractor can handle the complex challenges these beautiful roofs present. Here at Heidler Roofing, specialty roofs are a major focus of our business because while these roofs can be demanding, constructing them and keeping them in shape is also extremely rewarding for our craftsmen, as well as our communities.
What are specialty roofs?
Though they sometimes cover buildings designed for commercial activity, like retail stores, restaurants, or even historic market houses, specialty roofs are not the same as typical commercial roofs. First, specialty roofs are usually anything but flat, though they may feature large sections of flat surfaces that combine with steep ridges, various dormers, and perhaps even a dome to create a complicated landscape covering a (usually very large scale) building. For example, most church buildings have specialty roofs thanks to their steeples and/or spires, since those architectural structures are so unique and call for atypical roofing solutions.
Specialty roofs may also be special based on the materials they are made from, which can include more valuable metals (vs. the aluminum used in commercial roofing) like copper and terne-coated stainless steel that require particular installation considerations and skilled craftsmanship to construct and maintain.
Wood shake shingles, slate, and terracotta tiles are some other specialty material examples, though these materials may also be found in residential applications. It's true that specialty materials aren't found on average homes in our service region here at Heidler Roofing, as many new and even older homes in the mid-Atlantic rely on asphalt shingles for their budget-friendliness and reliability.
Unique beauty requires complex craftsmanship
One of the main challenges for a roofing contractor of installing, repairing, and maintaining specialty roofs is the fact that they require the technical skills of dedicated craftspeople. Often, specialty roofs combine a variety of materials across different sections of the same roof, which calls for a wide range of expertise and customization work from many different individuals to complete the project, whether a new installation or restoration.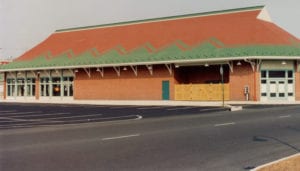 As you can imagine, the vast majority of roofing contractors cannot afford the time and workforce needed to address specialty roofs in the proper way. Heidler Roofing is one of only three or four other companies in the Pennsylvania, Maryland, Delaware, West Virginia, Virginia, and Washington, DC region that can work with these uniquely beautiful roofs. This primarily has to do with the fact that we can complete the most challenging projects without subcontracting because our three different divisions are distinctly skilled, yet able to collaborate when needed.
Coordinating the efforts of several focused teams guarantees the best results in specialty roofing, and we have plenty of project examples that have called upon more than one of our divisions at the same time. The reward for this level of teamwork is high, as a visually stunning and unrivaled roof is the result. The amount of pride our craftsmen take in that roof, though, is roughly equal to how challenging it was to install or work with.
Protecting America's history
As we touched on earlier, specialty roofs are found most often on historically significant buildings that are also quite culturally valuable to the city or region where they're located. These irreplaceable buildings are often old and in need of extra special care both inside and out. And sometimes that means completely replacing a roof to preserve the integrity of the entire building for future generations. One of our proudest examples of protecting America's history through specialty roofing work is the Baltimore Basilica roof replacement project.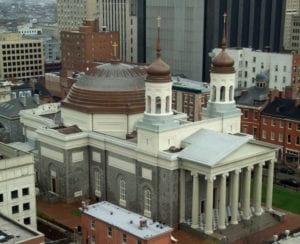 The Baltimore Basilica is a National Historic Landmark built between 1806 and 1821 that's considered to be an American architectural masterpiece. It was America's first cathedral and had design input from Founding Father Thomas Jefferson. Its overall style deliberately references freedom and democracy endorsed by the US Constitution, making it an important landmark not just to the city of Baltimore, but to America as a whole.
By 2001, the building was in dire need of complete restoration after decades of neglect, and many years of work began to bring the building back to life. Heidler Roofing was honored to be chosen to restore and preserve the Basilica roof, which included its prominent dome and spires. It required work from craftsmen across all of our divisions, but the end goal of remaining true to the vision of the original architect, Benjamin Henry Latrobe, who is known as the father of American architecture, was achieved.
It's all in the details
It may go without saying that being tremendously detail-oriented is crucial for successfully completing specialty roofing projects, and that begins with the estimating/quoting process. Many roofing contractors simply do not have the capability to craft estimates as carefully and comprehensively as we do here at Heidler Roofing, and it's a necessary step in every single one of our specialty roofing projects. Understanding the time it takes to custom fabricate one-of-a-kind architectural elements, shape metal panels to fit domes and other unique structural shapes, or follow historical plans to faithfully restore historically significant roofs comes from our deep experience that competitors just can't match.
Doing specialty roofing and doing it well generates a sense of pride and honor that's difficult to express in words. We love the challenge and artistry involved with creating new specialty roofs, and we even more greatly appreciate being called upon to restore and recreate distinctive roofs on historic structures. If you're looking for help with a specialty roof under your care, look no further than Heidler Roofing. Get in touch with us to discuss your unique project now.