What do a shortage of computer chips, freezing temperatures in Texas, and the COVID-19 pandemic have in common? They are all reasons why supply chain shortages in 2021 are delaying your commercial roofing project.
This year, the roofing industry has seen unprecedented material shortages, and the trend is likely to continue into 2022. There are various reasons why roofers across the United States, including Heidler Roofing, are experiencing delays. Nevertheless, we want to keep you updated about the roofing materials shortage and what you can expect throughout the remainder of 2021 and into the new year.
Reasons for Supply Chain Disruptions
As with many other item scarcities in the globalized supply chain, today's roofing material shortage can be attributed to COVID-19. In early 2020 in the US, most industries, including the roofing industry, paused. Roofing jobs nationwide stopped while the industry waited for an official essential service classification.
At the same time, requests for roof repairs and new installation began piling up. As a result, in 2021, many roofing contractors saw an overabundance of work and not enough materials to do the jobs.
Manufacturing Delays
Many of the manufacturing plants which supply materials for the roofing industry also shut down at the start of the COVID-19 pandemic. Without production lines creating the necessary roofing products needed to perform roof repairs and installation, commercial roofing contractors couldn't get what they needed to work on roofs promptly. Even a short-term pause in production can have a cascading effect, which is precisely what we saw at the end of 2020.
Towards the end of that year, there was a degree of uncertainty in the US market conditions and roofing industry, causing many suppliers and contractors to place only minimum orders. Therefore, manufacturers scaled back on their off-season production of goods, leaving a shortage of materials in the early roofing season of 2021.
Freezing Temperatures and Computer Chips
Beyond COVID-19, the freezing temperatures in Texas and the Gulf Coast affected those hiring a roofer to repair commercial roofs. In February 2021, these weather conditions caused power outages that caused a supply chain shortage of methylene diphenyl diisocyanate (MDI). Manufacturers use MDI for creating rigid boards, spray polyurethane foam (SPF) roofing, and some adhesives used in the roofing industry.
So, what does a computer chip have to do with supply chain problems? Computer chips are used to power everything from your computer to your cell phone and even your car. So when there is a computer chip shortage in the global economy, nearly everything is affected. Shipping prices increase, supply decreases while consumer demand for goods increases, and machine repairs that manufacture and transport roofing materials are delayed.
Roofing Material Shortages in 2021
Like toilet paper in early 2020, roofing material shortages in 2021 affect a variety of roofing products. It takes longer to receive products needed for a high-quality roof repair, restoration, or installation. Due to the supply chain shortage, the most affected roofing items are fasteners, plates, adhesives, ethylene propylene diene monomer (EPDM), and thermoplastic polyolefin (TPO) roofing materials.
Besides roofing materials, there are also labor shortages in construction trades across the board. From plumbers to stonemasons and roofers, every industry finds it harder to maintain the products they need to perform their jobs and quality workers to deliver the services.
What You Can Do
So now that you know a bit of why roofing contractors are facing such high material and labor shortages, you may be wondering if you should consider delaying your commercial roofing project. The short answer is no. Waiting to do your commercial roofing project for when things may get better can have devastating effects on your building. Not only is your building more susceptible to leaks, mold, and insect infestation, but you are also likely going to be putting your project off indefinitely since we don't know when the supply chain will get back to normal.
Since the supply chain shortage will likely last into 2022, getting on a roofing contractor's job list as soon as possible is in your best interest. This way, you are on the books to have your roof repaired. Here are some other things you can do during this material shortage: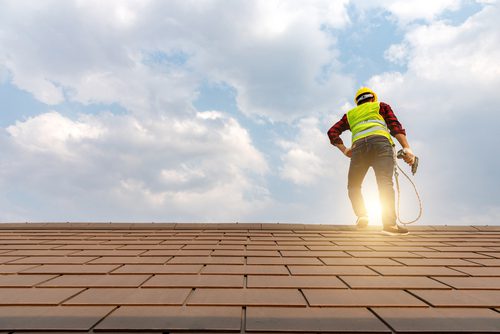 Manage your expectations: As noted, roofing contractors face severe supply chain shortages, requiring longer-than-normal lead times for ordering the roofing materials they need. There are also price increases happening across the board. Understand that your job may be delayed or increase in price due to circumstances beyond our control.
Stay in communication with us: When you work with a quality roofing contractor like Heidler Roofing, we make it our mission to provide you with a high-quality service. In doing so, we make sure we stay in contact with our customers to provide realistic timelines and price forecasts. Returning our calls promptly ensures there are no more added delays to your commercial roofing jobs.
Consider alternate roofing materials: Since EPDM and TPO roofing are facing severe shortages, perhaps you want to consider an alternative roofing material, like built-up roofing, a flat-roof coating like acrylic or silicone, or a specialty roofing material, like slate, cedar, or metal. While some of these materials may also face delays, they won't be as significant as EPDM or TPO.
Encourage others to start a roofing career: At Heidler Roofing, we're always looking for hard-working folks who enjoy an outdoor work environment, are part of a team, and want training beyond a traditional classroom. A roofing career provides those benefits and more. It could be you or a high school senior with little interest in college that fits this description. Either way, it's a great way to start a long-term career in a high-demand industry.
Ask about a price-adjustment clause: You may have noticed that price increases are happening in your local grocery store. The same is happening with roofing materials. However, there is a chance that prices could also go down sometime in the future. Ask your roofing contractor to stipulate that any cost changes between signing and the start of the job will adjust the cost of services accordingly.
Contact Heidler Roofing for All Your Commercial Roofing Needs!
The supply chain shortages across the board have resulted from several factors: everything from COVID-19 and the resulting shift in consumers' access to goods to increased shipping costs and even freezing weather. Despite all these challenges, Heidler Roofing remains committed to providing you with top-notch commercial roof repairs, restorations, and installations. We work hard to provide you with reasonable timelines and quotes to understand how hiring a roofer during these times will affect you and your project.
Get in touch with experts today at Heidler Roofing for a free roofing estimate!