When the roof of your commercial building begins experiencing regular leakage that's getting worse with each storm that rolls through, it may be time for a roof replacement. Unfortunately, roofs don't last forever, and even the best materials installed by professional contractors eventually hit the end of their life. If your roof has reached this point, you may wonder, "What is included in a roof replacement?"
The replacement process of your commercial roof system requires a quality roofing contractor who knows and understands various roofing materials. You'll want to choose one that can provide the quality roof your building deserves and answer all your questions regarding the process from start to finish.
Here at Heidler Roofing, we are that contractor for you, and we'll start by answering some of the most frequently asked questions regarding roof replacement. Then, you'll be ready to begin the next phase of the process: getting your roofing estimate. Get started today!
What Does a Roof Replacement Consist Of?
When you want to know what is included in a roof replacement, you're likely looking for the steps involved in the replacement process. Here's an overview of what to expect when you decide to pursue a roof replacement: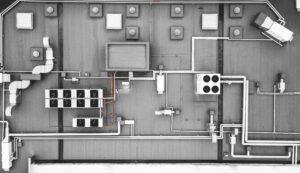 Set up your roofing estimate—A roofing estimator will come to your business and perform a thorough roof inspection. They will take measurements, record problem areas, and recommend whether you need a roof repair or replacement. The estimator will discuss your digital report with you, including photos of your roof and the estimated costs for replacement.
Schedule the work—Once you review the proposal, you'll have to sign a contract for the work and schedule the timeline. Often, when your roof can be completed depends on when materials are available, and you must consider supply chain delays.
Roofing materials are delivered—The next step is having the roofing materials delivered to your business and setting up safety precautions.
Moving vehicles out of the way—On the days of your roofing work, we'll ask that your employees don't park near the building to prevent any loose debris from accidentally falling and hitting their vehicle. If any are too close, we'll ask that the vehicles get moved.
Removal of old and damaged roof material—Next, your roofing contractor will work by removing the old and damaged parts of your roof, one section at a time.
Installation of new materials—After the surface is prepared, our team will install your new roofing materials. This process varies depending on the material you are putting on your roof.
Sealing around vents and other obtrusions—The roof of a commercial building looks quite different than a home, with many obtrusions, such as vents, pipes, and HVAC units. After the new material is placed, the roofing contractor will seal the edges around those obtrusions to prevent leaks.
Clean up and inspection—Once everything is completed, our team will clean up from their work, and an inspector will ensure everything is placed correctly to ensure a leak-free and like-new roof.
Which Material Is Best for My Roof?
One of the most critical parts of replacing a roof is choosing the right material. The roofing material included in a roof replacement depends significantly on the building itself, the type of business you conduct, and your location. It's best to seek advice from a qualified roofing contractor, like Heidler Roofing, before deciding on your own which type of roofing is best.
What Do I Need to Know Before Replacing My Commercial Roof?
There are various things to consider before replacing your commercial roof, such as knowing whether you need a complete roof replacement, recover, or restoration. For example, if your roof's membrane is still in good condition, a high-quality roof coating may be able to get you the leak-free and energy-efficient roof you want at a lower cost. Your commercial roofing contractor can advise you on the right choice for your building.
Another thing you need to know before replacing your commercial roof is that a roof replacement is an investment. The right materials can help make your building more energy efficient, thus lowering your energy bills. It will also reduce the amount of cleanup time you currently spend when water leaks through your roof. And with less leaks from your roof, you improve the safety of your building and decrease your liability in case of slip-and-fall accidents. Additionally, you won't lose revenue or products from water damage.
Additionally, a new roof can last you 20 to 25 years and perhaps up to 30 or more years with the proper maintenance. Since a new roof is a good investment, it's worth the time, energy, and cost. As such, you should focus on having a quality roof contractor, such as Heidler Roofing, perform the work and invest in the best roofing materials in the industry.
When you choose to work with a manufacturer certified roofing contractor to install the best roofing materials, it also means your roof is protected from certain damages under the manufacturers' warranty. You just need to ensure that a certified roofing contractor, like Heidler Roofing, performs the work. Otherwise, you may void the warranty.
Have More Questions about What Is Included in a Roof Replacement? Contact Us!
When it comes to new roof installation, we understand that you have many questions. You wonder, "What is included in a roof replacement?" And "How do I choose the right material for my roof?" While we began to answer those questions in this blog post, a more detailed discussion and inspection of your roof are necessary to lay out the finer details.
That's why you should contact us today to schedule your roofing estimate. We'll look at your existing roof and determine whether some repairs or a roof coating will suffice or if you need a new roof. Either way, our knowledgeable team is here to help you! With more than 60 years of experience, expert craftsmanship, and the use of the highest quality roof products on the market, you can't go wrong with choosing us as your roofing contractor.