One of the biggest questions that building owners and managers have when they reach out to our commercial roofing experts here at Heidler Roofing is whether their old or damaged roof needs to be replaced entirely. They often ask this with a bit of fear because commercial roof replacement is expensive and disruptive to business. However, it's often a necessary investment, and one that can help you save money on your energy costs and protect your building for years to come.
For a commercial roof experiencing problems and leaks, a common misconception is that the only option is a total tear-off and rebuild. The truth is that less extensive commercial roof repairs or even restoration options may better suit the situation.
For over 60 years, Heidler Roofing has provided our customers with free roofing estimates to assess their unique situation. We will help you determine whether you need a commercial roofing coating or replace the existing roof with a different type of roofing.
For our final installment in the Ultimate Guide to Commercial Roofing post series, we're looking at repair versus replacement. We'll also touch on restoration, which has become more popular with the advancement of commercial roofing materials over time.
Commercial Roof Repair
If you've been following a regular preventative maintenance routine for your commercial building's roof, you've likely received statements of needed repairs from time to time. Especially if your roof is approaching the end of its predicted service life, these types of reports may seem to be getting more frequent. However, that doesn't necessarily mean it's time for a total low-sloped or flat roof replacement.
It is probably more cost-effective to fix smaller issues as they arise on your aging roof—such as minor storm damage—even if those problems are increasing in frequency. Your trusted professional roofing contractor can work with you to determine whether things have progressed to a point where the "break and fix" cycle is costing your business more money and frustration than is worth it.
No matter what type of roofing protects your commercial building—built-up roofing (BUR), TPO and PVC single-ply roofing membranes, EPDM roofing, modified bitumen, or a specialty roofing material—Heidler Roofing is your trusted and experienced roofing contractor to handle your commercial roof repair. Flat roofs and very low-slope roofs are particularly challenging and require a contractor with extensive experience in repairing these types of roofs, and Heidler is here to help with expert flat roof repairs.
Commercial Roof Maintenance
Did you know that one of the best ways to prevent costly repairs is with regular preventative maintenance? Just like our teeth need to be cleaned and examined at a dentist every six months, your building's roof needs regular inspections to ensure there are no issues. And if there are problems—finding out sooner rather than later can save you time, money, and a bunch of headaches.
With Heidler Roofing's Maintenance and Repair Plan, you can increase the longevity of your roofing system, prevent costly significant repairs, optimize energy efficiency, and have a better idea about how long you have until your roof needs replaced. We'll keep your roof clean and leak-free, ensuring that you have adequate protection for your building.
When Commercial Roof Replacement Makes Sense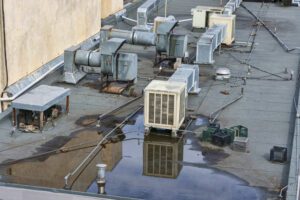 Has your roof been experiencing leakage regularly that's getting worse and ruining areas of your building's interior? Or have you suffered significant damage as the result of a strong storm? These are a few situations in which commercial roof replacement might be the best decision, depending on the severity of the issues.
For instance, even if your roof is fully intact after a severe weather event or strong summertime thunderstorm, you'll want to call your roofing contractor for a thorough inspection, as large hail and fallen debris like tree limbs can irreparably destroy your roof's surface and substructure. The good news is that your insurance may help defray roof replacement costs in natural disaster situations.
What About Restoration?
If you're thinking about commercial roof replacement, you've probably come across contractors who focus exclusively on what's known as restoration work.
Restoration is a type of commercial roof repair instead of replacement in some instances. What your original roof is made of—like shingled or metal roofs—will often dictate which restoration system might work for you.
Additionally, the type of business you conduct in your building can affect the options available, including whether replacement may just be a better course of action than commercial roof repair. Professional contractors like Heidler will take the time to help you carefully consider what's best for your building and your budget in the long run instead of simply recommending restoration or replacement every time.
WEIGHING YOUR OPTIONS AND NEED EXPERT ADVICE? HEIDLER IS HERE TO HELP!
Heidler Roofing's technical expertise in commercial roofing, as well as our legendary service and highest quality products, make us your premier partner for commercial roof repair, replacement, and restoration work. If your Mid-Atlantic region commercial building's roof is aging and starting to "nickel and dime" you with constant minor issues beyond typical roof maintenance, it's time to give us a call to schedule a thorough inspection.